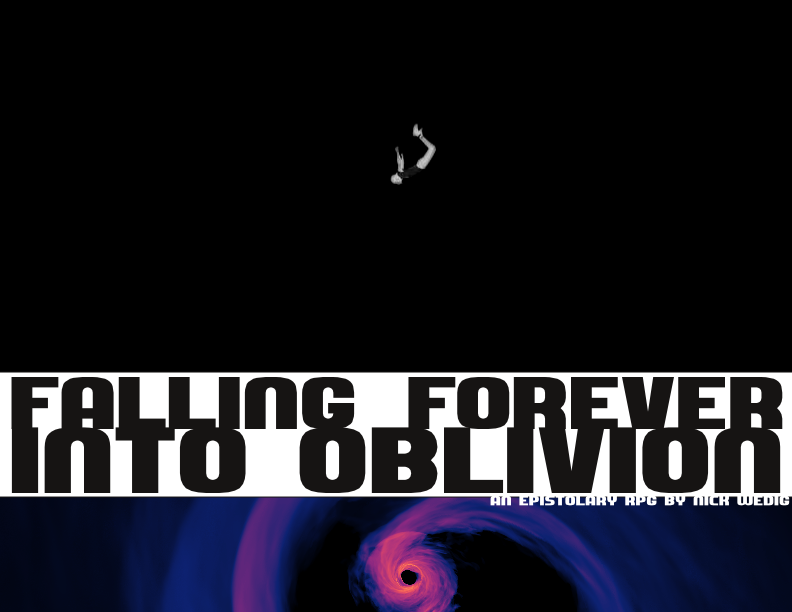 You were a pair of interstellar explorers. You traveled the galaxy together, and you cared about each other deeply. While studying a black hole, you separated in two small scout vessels to examine the black hole's accretion disk. Somehow, one of the ships was knocked out of its controlled orbit. The ship, and the explorer inside, fell into the inescapable gravitational pull of the black hole.
Now they are slowly falling into the black hole. There's no way to stop their inevitable descent across the event horizon. But you can still communicate via electronic messages, through your sub-ether quantum entanglement messaging system. (Due to technical limitations of the entanglement system, real time video and audio are not possible, but written messages are.) So you're sending electronic mail back and forth, for as long as you can. The loss is inevitable, so you hold onto what connection you have left.
---
Falling Forever Into Oblivion is a cooperative letter writing and Tarot collection game for two players. It's a modified version of Wish You Were Here.
Players will take on the role of two interstellar explorers who cared for each other very much. One of them has accidentally been knocked off course, and is now falling into a black hole. The two can still send and receive letters from each other, despite one of them being inside a black hole and the other still in the larger universe.
As players, you will send physical letters back and forth between you and your correspondent. Your goal is for both payers to complete their deck of major arcana. Each player begins with a mixture of the two Tarot decks. As you play, you will try to guess what card the other player was basing their letter on. If you guess correctly, then you will receive a card for your deck, getting you closer to completing your own deck. If you guess incorrectly, you will instead receive a card from the other player's deck, getting you farther away from completing your deck.
If you and your correspondent are able to complete both decks, you can create a satisfying conclusion to your character's stories. But if you make too many incorrect guesses, then communication between the characters may be cut off completely, forever.